Tannoy speakers are designed and engineered in Scotland and are available in a huge variety of styles and technological expertise. The name Tannoy has been synonymous with loudspeaker for over 75 years! Too good to be believed without a personal visit, Tannoy produces the highest value speaker systems on the market as well as some of the most sophisticated and accurate in the world.
The Tannoy Mercury series has been replaced by the Tannoy Mercury Fusion series. The Tannoy Fusion speaker (Mercury F) series employs technologies learned in designing the past Mercury and Revolution discrete series, but manages this within the Mercury price structure. The Mercury F series represents the Fusion of performance and affordability to bring forward a new benchmark for value. Comprised of two floorstanding speakers, two standmount or bookshelf speakers and a pair of surrounds or mini speakers plus a center channel for use in an outstanding home theater system. The surrounds may be easily wall mounted with their integral brackets.
The new Tannoy Revolution series speakers replace the Tannoy Sensys series and feature Tannoy WIDEBAND technology. The Revolution Signature DC versions follow a minimalist signal path by virtue of the inherently simple crossover needed as the drivers are in a naturally phase correct alignment and the integrated design allows for a seamless frequency transition. High power handling capabilities and high efficiency make for one extremely dynamic package that is destined to be a classic and a favorite of audiophiles. This is one of the highest quality and highest value systems available. Perfect for truly realistic surround sound applications in the finest home theater systems. Refined driver and enclosure design make these a favorite of customers seeking exceptional high fidelity stereo sound in attractive cabinetry at the lowest cost. Available in some of the smallest of Tannoy's famous Dual Concentric versions, nothing else comes close to the sound of these in such a compact enclosure!
The Tannoy Eyris series is the new, remarkably affordable line of speakers offering Tannoy's innovative WIDEBAND technology and replaces the Tannoy Revolution series. The Eyris speakers utilize Tannoy's exceptional new dome tweeter that increases high frequency extension well beyond the range of human hearing. This latest Tannoy development reduces distortion to new levels and leaves harmonics intact resulting in less phase error. These improvements lead to a sound that is breathtakingly real and recreates a true three dimensional soundstage and impact of a live performance. The cabinet design is thoroughly modern and elegant, available in your choice of medium American Walnut or light Sycamore real wood finishes. Their narrow baffles and tapered top edges are not just for their great looks, but eliminate baffle reflections that occur with speakers that have wider front baffles. This lowers distortion still further and helps them create a truely three-dimensional soundscape. The addition of the famous Tannoy Dual Concentric driver design to this series makes for an even more dynamic and realistic experience.
The Tannoy Dimension replaces the Tannoy Definition series speakers and are simply one of the world's finest speaker systems. They offer the latest Tannoy WIDEBAND technology and incorporate that with the latest version of the famous Tannoy Dual Concentric driver. A new and elegant design from one of England's premier industrial design firms, the Tannoy Dimension speakers are breathtaking both sonically and visually. Timeless design assures integration with any decor from antique, classic Art Deco, international flavors to the most modern. Performance, style, performance, grace, performance, elegance - the Tannoy Dimension speakers have it all. Did we mention performance? Words will not adequately describe the experience that you will have when listening to these amazing speakers. We recommend a visit and listening to these for yourself. As with all of the other Tannoy speaker lines mentioned, the Dimension series speakers have available matching center speakers and subwoofers to create full surround sound home theater systems. The unique WIDEBAND super tweeters incorporated in the Tannoy Dimension designs are available separately in three different designs to compliment and upgrade existing speaker systems.
The Tannoy Churchill loudspeaker, Tannoy Churchill Wideband loudspeaker, and the Tannoy Kingdom Series loudspeakers have been discontinued.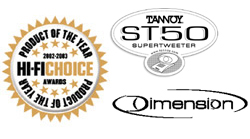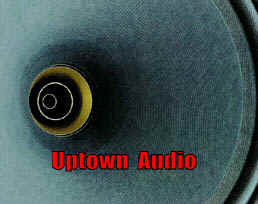 Tannoy Dual Concentric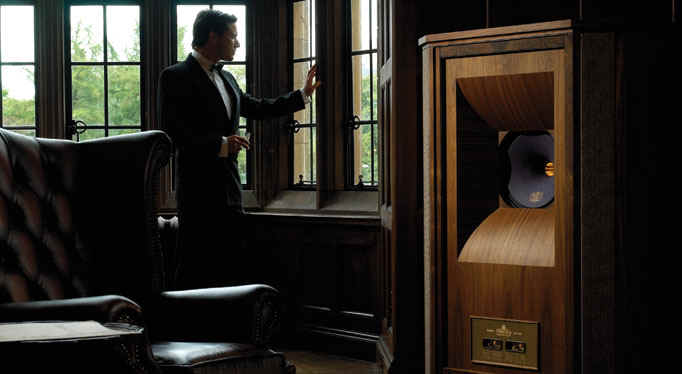 Tannoy
Mercury Fusion series
Mercury F1
Mercury F2
Mercury F3
Mercury F4
Mercury FC
Mercury FR

Revolution series
Revolution DC4
Revolution DC4-T
Revolution Signature DC4-LCR
Revolution Signature series
Revolution Signature DC4
Revolution Signature DC4-T
Revolution Signature DC6
Revolution Signature DC6-T
Revolution Signature DC4-LCR
Revolution Signature DC6-LCR
Definition series
Definition DC8
Definition DC8-T
Definition DC10-T

Prestige series
Turnberry HE
Sandringham
Edinburgh HE
Westminster Royal HE
Canterbury 15 HE
Kensington
Yorkminster
Sterling HE
SuperTweeter ST200 Walnut

Dimension series
TD 8
TD 10
TD 12
TDC


Super Tweeters
ST 50
ST 100
SuperTweeter ST200 Walnut
Subwoofers
TS8
TS10
TS12
TS300
TS500