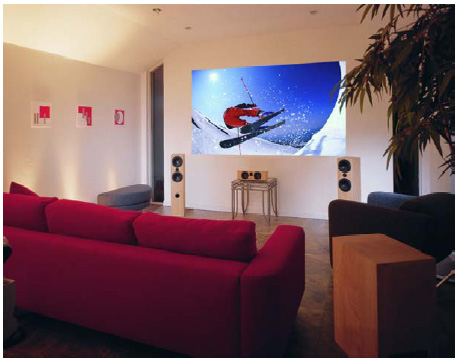 Tannoy speakers are designed and engineered in Scotland and are available in a huge variety of styles and technological expertise. The name Tannoy has been synonymous with loudspeaker for 75 years! Too good to be believed without a personal visit, Tannoy produces the highest value speaker systems on the market as well as some of the most sophisticated and accurate in the world.
The Tannoy Fusion series follows the huge success enjoyed internationally by the Tannoy Mercury series, which is one of the most popular home theater speaker systems throughout the world due to its unrivaled sound quality for the dollar. Available in attractive apple and black color veneers, they have attractive cosmetics as well as price points. Complete packages from stereo to theater systems are available in the Fusion series with three choices for serious stereo sound from the mains.
Tannoy Fusion Key Features
Tannoy Fusion speakers incorporate upgraded versions of the drivers used in the Revolution range, the large mid and bass drivers are equipped with multi fibre, coated pulped paper cones and revised motor systems – as such, they are fully optimised for exceptional performance in Fusion's compact enclosures.
The newly designed high frequency unit is built around a shielded neodymium magnet system with a layer damped woven polyester dome. A very clean and open sounding HF with exceptionally smooth response.
Substantial enclosure construction ensures a solid platform to optimise the performance of the drivers – 15mm particle board enclosure and 19mm MDF front baffle, cross braced internally for maximum rigidity.
Bi-amp, Bi-wiring facility is provided on the Fusion 2, 3 and 4.
All Tannoy Fusion models are shielded to minimise colour fringing effects when positioned close to a TV screen.
Built in wall hanging device allows flush mounting of the Fusion R.
To cater for both modern and more traditional décor, all the models are offered in either apple wood or dark oak vinyl veneer.
The Tannoy Fusion speakers are a competitively priced range with a clean and elegant design focus that concentrates more on acoustic performance than unnecessary trim.
The large, high spec mid bass drivers are upgraded versions of those used in the Revolution range.
Dynamic acoustic balance suited to both Hi Fi and home theatre applications.
A wide selection of models allows for several permutations of home theatre systems to suit all installation environments.
Optimised for use with the Tannoy TS subwoofer range.
Stop by Uptown Audio, Virginia's leading Tannoy dealer, today to hear the Tannoy Fusion loudspeakers for yourself!