Introducing the new Rogue Audio preamplifiers!
Rogue Audio pure vacuum tube preamplifiers are hand made in the USA. They feature exceptional quality in design, sound and finish. Offering amazing value, they deliver excellent levels of resolution, image structure and soundstage depth. They are the equal of units costing several times their modest price and often sonically embarrass competing units. Presenting music with all it's 3 dimensional cues and harmonic structure, the Rogue Audio preamps hold musical truth high with speed and accuracy, while still delivering a sweet tube top end for ease of listening all day. Deep bass with a warm and precise midrange make vocals and guitar come alive with realism. Easily driving amplifiers of all types to realistic levels, the Rogue Audio stereo preamplifiers offer their level of accuracy and realism with any power amp/speaker selection whether it be a complete Rogue Audio amplification system or combined with a solid state amplifier. All Rogue Audio products are available with your choice of black or silver faceplates. All versions feature premium parts such as Dale Vishay metal film resistors, various types of high quality film coupling caps, top quality internal wiring, and premium tested tubes.
The latest series of premplifiers from Rogue Audio are the RP-X series and feature advanced remote control function and new, lower noise volume and balance control circuitry. The RP-1 is the entry level unit and yet it is a full function design with built-in MM/MC, adjustable phono section, headphone amp, hometheater bypass and a full feature remote control. The RP-5 builds on this architecture and adds advanced circuit design, more robust build in all areas with even more premium parts and even more features for a no compromise preamp design that is sure to please even the most discriminating tastes.
The Perseus Magnum preamplifier has a traditional layout and user control set with some nice added features such as a MM/MC selectable and adjustable phono sections, home theater bypass, and remote volume control.
The famous Rogue Audio 99 preamp has reached very high levels of popularity and performance over the years and is in its final form as the 99 Super Magnum version. This unit has better than ever parts quality, circuit upgrades over previous versions, and an optional tube phono section. A basic remote control set of volume and mute are provided and the unit features a separate power supply.
The Athena preamplifier is one of Rogue Audio's finest and is a slightly scaled down version of the state of the art, Hera 2, line stage preamp. It is exceptionally well built and provides a reference level of sound quality which raises the bar for other designs. The Rogue Audio Athena preamplifiers are built into the main full size chassis as the Hera, and use the same circuit design but in a twin triode arrangement rather than the parallel arrangement of the Hera. A smaller version of the Hera outboard power supply is used to optimize the SNR. Careful attention has been paid to the board layout to insure the best possible signal quality. The preamplifier is extremely quiet, remarkably faithful to original recordings, and uses parts of the highest quality to make it a worthy companion of the Rogue Audio M180 or Apollo monoblock amplifiers. It also features a set of balanced inputs and outputs. This preamplifier is a must listen for anyone serious about audio quality.
Rogue Audio RP-1 preamp
Rogue Audio RP-5 preamp

Rogue Audio 99 Super Magnum preamp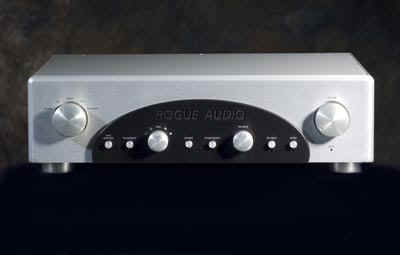 Rogue Audio Athena preamplifier front view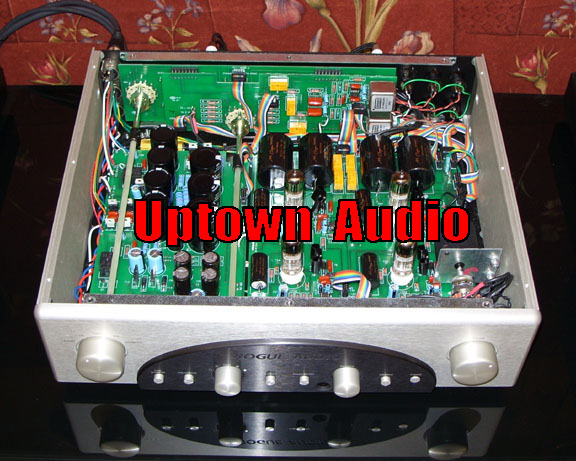 Rogue Audio Athena preamp internal layout view
........... ....
.....

.
Rogue Audio Perseus Magnum preamplifier