Dac attack - The affordable, high end DAC shoot-out is on!
1-5-11
The brand new Rega DAC, the Music Hall 25.3 DAC, and the Cambridge Audio DacMagic are all here and are getting a head to head comparison. While many shops have a decent DAC or many reviews go on about one affordable and one ridiculously expensive one, we have here 3 great sounding and affordable DACs and all in the same place. Yes, they are for sale and we are taking orders. You can buy some of our offerings on our store website via a secure shopping cart system. You will find various products here and they all will link to one secure shopping cart, so that you can mix brands yet each brand pretty much has its own store page so that you can browse the specific model once you have an idea of what you want.
http://www.uptownaudio.com/Hi-Fi/shop.htm
OK, so on to what we hear. These DACs are all great sounding and all come in at different price points from $450 to $995. All have some common features and each have some unique feaures and sound. A DAC is a D/A converter, it converts a digital audio input to an analog output. That allows you to connect various devices with PCM digital audio outputs to them and then the analog outputs of the DACs to your amplifiers or even to a set of powered speakers. Why do you need a DAC? Well, all digital audio signals must be converted to analog for us to hear it. Many devices have a built-in DAC chip and an OP-amp chip to serve this purpose and so you'll have analog outputs on typical devices such as a CD player and a computer sound card. Yet many of these devices also have one or more types of digital outputs. That is where these high-end DACs come in. You can get much better sound quality from a hi-fi DAC than from the internal DACs in most devices. There are also high-end CD players which incorporate these DACs internally, but you really can't use most of them for anything but CD playback as very few offer digital inputs for other devices. The DACs illustrated here, on the other hand, have several inputs for several digital sources, so you can upgrade the sound quality of several digital sources with one of these DACs!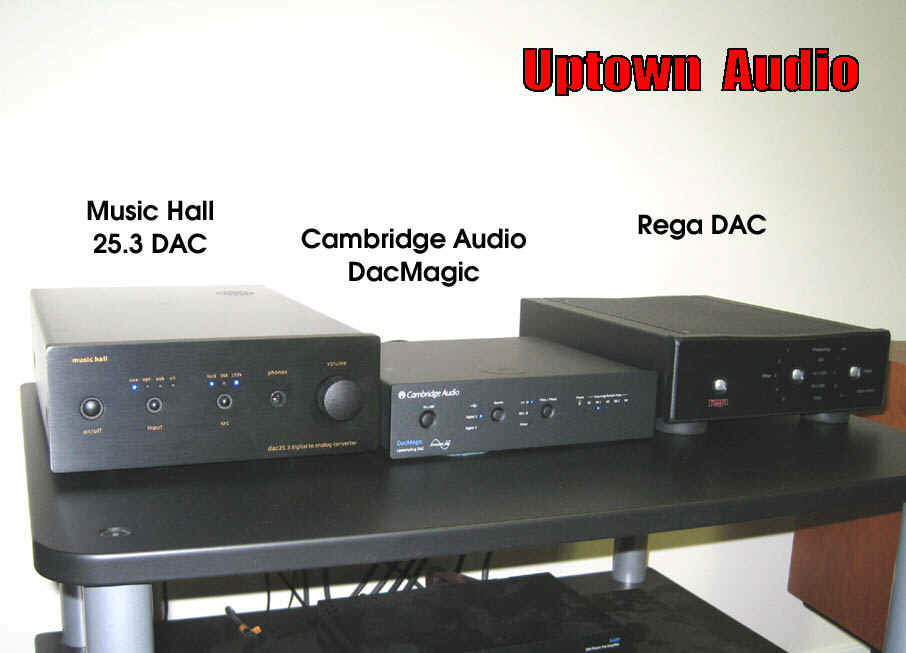 Dac attack continued...
The sound quality of these new external hi-fi DACs is very good compared to internal DACs on most any consumer device and even to other hi-fi DACs of more than just a couple of years old due to developments and improvements in digital audio technology. The better hi-fi examples also contain better sounding analog stages in addition to just the latest digital chipsets. That's about half of the magic behind their sound quality. After the digital stage, it's easy to lose any gains made in nano technology by routing the signal through cheap preamps. So each of these DACs have nice analog output stages. The Music hall 25.3 is a hybrid unit with a couple of features not found on the others. In addition to it being a DAC with fixed level analog outputs, it also has a nice sounding headphone amp section with adjustable level control, accessable from the front panel. It also has a vacuum tube output stage so it's a hybrid solid state / tube design.
All of the DACs feature multiple digital inputs, all have at least one optical, one coax, and one USB input. Most audio products will use either the optical Toslink connection (say from a satellite HD TV receiver or a Macbook) or the coax (from perhaps an older CD or DVD player. Even newer versions of the more affordable products will benefit from a DAC upgrade. The better the system they are connected to, the greater the improvement it will make as better systems allow more resolution to pass and the new DACs will deliver just that. The USB inputs allow direct connection of any PC. It's also possible to stream digital audio wirelessly to a receiver device and then connect that to the DAC via the most advantageous connector. Typically the coax input has the best sound followed by the Toslink or the USB depending upon the design of the DAC.
For the listening tests done here, I've used the coax inputs on each DAC. For each, the same length and type of coax digital input cable was used and the same length and type of analog RCA cable was used. So they all are fed the same diet of signal and they all delivered their goods via the same type of outputs. Two of the DACs, the Music Hall and the Cambridge Audio, have balanced outputs (XLR) as well as RCA and to keep things on a level field, the RCA was used for all three examples. I have tried the other inputs and outputs of the DACs but that's way too much info and the sound is typically better for most units with just RCA in and out, so we'll concentrate on that.
The Cambridge Audio DacMagic is the most affordable of the group and provides the second best combined level of resolution and dynamics of the three. The Music Hall is the next in terms of cost and in performance, delivering a bit softer and more compressed sound but with a bit warmer and deeper bass. The Rega DAC edged out the others by offering more resolution, dynamics almost on par with the DacMagic, and the most powerful bass of the 3. It's really a close call and the better your system, the more you will appreciate the differences. Only the Music Hall 25.3 DAC offers the headphone amp, so it's pretty feature rich and is very easy to listen to. It provides a very warm and rather expansive soundstage. The DacMagic is the leanest of the bunch as its bass is very taught yet it is also deceptively deep with the right gear connected and can actually edge out the Music Hall in that area when true deep bass is in the recording. The Music Hall has that vacuum tube helper to deliver a more consistently full and round sound, even to the extent of it adding a touch of color to an otherwise sharply defined, black and white soundscape. The Rega DAC keeps their analog pedigree safely guarded as it has a very smooth and easy to listen to sound as well, yet with greater resolution and tremendous bass potential. It also had a bit of bloom to the lowest octaves but went deeper than the MH unit to really shake the ground in capable systems. Interestingly, all of the DACs have another trick up their sleeves. They all feature user selectable digital filters. These are selected via buttons on their front panels. The effects are subtle and yet again noticable over a period of listening or through better components with input signal of sufficient resolution. This feature actually allows the Rega and the DacMagic to emulate one another quite well. The Music Hall doesn't fare quite as well here as it is limited by its tube charateristic yet it does offer some change in tone, just not being able to reach the dynamics of the others. The DacMagic has its best sound in the linear mode and yet is brightest and leanest here as well. It cannot deliver the bass power or seeming depth of the Rega but it does allow it to soften its midrange and HF response to try and nearly match the warmth of the Rega. The most flexible here is the Rega as it has even more filter options and can be made either warmer and rounder, or as fast and clear as the DacMagic, truly winning the Oscar for best all round role playing. The Rega bass is still clearly more powerful than the others even with the digital filter switches engaged in the manners which most brighten things up. This is because the filters work in the ultrasonic range and have subtle effects mostly in the high frequencies of the audible range. So you can have great, powerful bass and either a soft and warm top end and a more open and clear top end. This all with 16/44 input! I'll find a 24/96 source next and give them another run. Drop by and hear it for yourself. Pick one up on your way out!